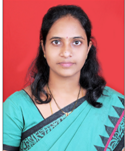 Dr. Lakshmi Sudha Kondaka
Principal
Greetings from SIES GST!
SIES Graduate School of Technology, an integral part of this well-established Community, started in the year 2002 is located in the list of an educational hub in Navi Mumbai imparting quality based technical education, offering Eight Bachelor of Engineering courses in Electronics and Telecommunication Engineering, Computer Engineering, Information Technology, Mechanical Engineering, Electronics and computer science, Artificial Intelligence & Machine Learning, Artificial Intelligence & Data Science, Computer Science and Engineering (Internet of Things and Cyber Security including Block Chain Technology).
M.E.in Artificial Intelligence & Data Science, M.E. in Information Technology(Information Security).
SIES GST envisions to be a centre of excellence in Education and Technology committed towards Socio-Economic advancement of the country". GST is committed to high standards of Engineering Education, whilst complying with the requirements laid down by the statutory and regulatory bodies. Our aim is to continually enhance learning opportunities by providing multiple study options through a perfect blend of Academic Excellence, Teaching-learning process, Teacher-student mentoring based on our quality management system that enables learners to thrive in a rapidly evolving environment. The institute strives to develop every facet of the learner and provides holistic development to the students by striking a perfect balance between academics and extra and co-curricular. The institute has a very strong industry-institute interaction which ensures that every student gets an opportunity to learn the latest trends and best practices of the industry which ensures that they don't stand in awe of their peers in this competitive world.
To align with the curricula, the institute has state-of- the-art infrastructure and laboratories. Spacious green and clean campus, a good library and a peaceful atmosphere ensure that learning becomes a wonderful experience.